After has been treated for two weeks post 9th surgery, at the Hasan Sadikin Hospital, Bandung, Dede "Tree Man" allowed to go home to undergo outpatient care at home, Wednesday.

Dede is wearing a shirt and black trousers, looked waited for his brother, in the living room 14, RSHS Bandung, Bougenvilee Room.

"Yes, I'm waiting for my pick up now. Today I'm going to go home," said Dede.

According to Dede, the bandage that bind his two hands has been opened since Sunday (14/3).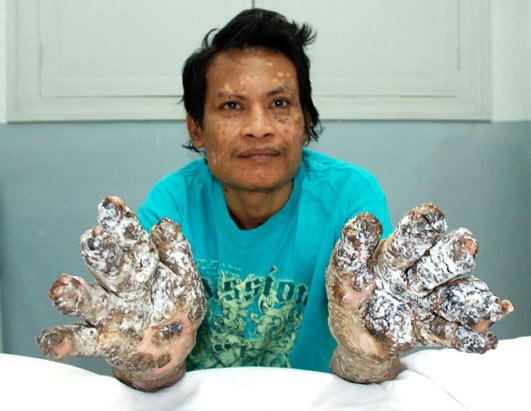 He said, both hands are easy to move but not my fingers.

"My hand can be moved easily but not the fingers," he added. During the treatment, the doctor gave him an ointment and medicine to Dede.

"Every day, I need to take the capsules and use the ointment twice a day, morning and afternoon," said Dede.

"Tree Man" whose full name is Dede Koswara resident of Tanjungjaya Village, Cihampelas District, West Bandung expressed his excitement, being able to go home and see his family and friends.

In this 9th surgery, team doctor who operated Dede managed to lift up 2.1 kilograms (4.62 lbs) of warts from his hands the man nicknamed "tree man".

"The total warts removed reached 2.4 kg (5.28 lbs). From the right hand we managed to lift 1.4 kg (3.08 lbs) and 0.7 kg (1.54 lbs)from the left hand," says surgery Team Leader Dr. Hardisiswoe Soedjana in Hasan Sadikin Hospital (RSHS), Bandung, after he operated Dede for the 9th times on Friday (12 / 3).

"We found no significant obstacles because we've already known the situation on previous surgery," said Dr. Hardisiwoe.

This surgery process, said Dr. Hardisiswoe, took about three hours. "The surgery duration was three hours. From 08.00 am to 11:00 am," he added.

Previous Story Here : New In 2010 : First Dede's 'Tree Man' Operation This Year


IN BAHASA

Bandung (ANTARA News) - Setelah duapekan dirawat pasca menjalani operasi ke-9, di RS Hasan Sadikin Bandung, Dede "Manusia Akar" diijinkan pulang ke rumah untuk menjalani rawat jalan di rumahnya, Rabu.

Dede yang mengenakan kemeja serta celana panjang hitam, terlihat menunggu jemputan saudaranya, di ruang Bougenvilee Kamar 14RSHS Bandung.

"Iya, ini lagi nunggu jemputan saudara. Hari ini mau pulang ke rumah," ujar Dede.

Menurut Dede, perban yang membalut dua telapak tangannya sudah dibuka sejak hari Minggu (14/3) lalu.

Ia mengatakan, kedua telapan tangannya sudah bisa digerakkan namun jari-jari belum bisa digerakkan.

"Kalau telapak tangan sudah bisa digerakkan tapi jarinya belum," ujarnya.Selama menjalani perawatan, dokter memberikan salep dan obat kepada Dede.

"Setiap hari dikasih obat kapsul dan salep dioles dua kali sehari, pagi dan sore," kata Dede.

"Manusia akar" yang bernama lengkap Dede Koswara warga Desa Tanjungjaya Kecamatan Cihampelas Kabupaten Bandung Barat ini menyatakan kegembiraannya karena dapat pulang ke rumah dan bertemu keluarga serta teman-temannya.

Dalam operasi ke-9 ini, Tim dokter yang mengoperasi Dede berhasil mengangkat 2,1 kilogram kutil dari kedua tangan pria yang dijuluki si "manusia akar".

"Total kutil yang diangkat itu mencapai 2,4 kg. Dari tangan kanan kami berhasil mengangkat 1,4 kg dan tangan kiri 0,7 kg," kata Ketua Tim Operasi Dr Hardisiswoe Soedjana di Rumah Sakit Hasan Sadikin (RSHS) Bandung, usai proses operasi ke sembilan pada Jumat (12/3) lalu.

"Kami tidak menemukan kendala yang cukup berarti karena kami telah mengetahui keadaan Dede pada operasi sebelumnya," ujar Dr Hardisiwoe.

Proses operasi tersebut, kata Dr Hardisiswoe, berjalan sekitar tiga jam. "Operasinya berlangsung tiga jam. Jam 08.00 pagi masuk ruang operasi jam 11.00 selesai," katanya.(ANT/A024)


antara